What's New
Hubert H. Humphrey Digitization Project
This is the fourth installment of our NHPRC funded project to digitize Hubert H. Humphrey's speech texts and this month we focus on the period from 1958-1960, the second term of the Eisenhower administration.

In the last months of 1957 the Soviet Union successfully tested its first intercontinental ballistic missiles and launched Sputniks 1 and 2, the first artificial earth satellites, into space. These events began the space race between the Soviet Union and the United States. In December of 1957 the United States failed to launch the satellite Vanguard TV3 in front of a live television audience. Only after the U.S. was successful in launching its first satellite Explorer 1 into space in late January of 1958, did Humphrey decide to address the Senate on the topic of disarmament in a 70 page speech that took four hours to deliver.

Being a member of the Foreign Relations Committee, as well as a member of the subcommittee focused on disarmament, Humphrey traveled to Geneva in late 1958 for a visit to the World Health Organization and United Nations Disarmament Committee, making stops in other European countries to encourage international cooperation for health research. During this trip Humphrey held his famous eight hour meeting with Nikita Khrushchev which he referenced in this speech and numerous others for months and years after. Humphrey described the meeting in his autobiography as a turning point in his career. "The unexpected visit was enlightening, and the resulting publicity helped give me more national prominence. But the prominence was less important than how I saw myself. I knew now that I was able to deal effectively with heads of state" (The Education of a Public Man, p. 148).

Partly because of his new confidence Humphrey decided to enter presidential primaries in a few states to challenge Senator John F. Kennedy for the Democratic Party nomination. The Kennedy's, however, were a powerful family whose political and economic ties gained certain advantages. They had a lot more money to spend, a better organization, and a lot of relatives to send on the campaign trail. In this 1960 speech in Madison, Wisconsin Humphrey admitted that "there are times when I envy the campaign of my adversary. It seems to have plenty of glamor - and it certainly has plenty of Jack."
After losing the Wisconsin primary, and then again the West Virginia primary to Kennedy, Humphrey endorsed Adlai Stevenson on July 13, 1960 in this

speech at the Democratic National Convention in Los Angeles. Two weeks later, however, Humphrey was campaigning for his own re-election to the Senate and had fully endorsed the Kennedy/Johnson ticket. Realizing that Kennedy had strengths that he did not, Humphrey also recognized that Kennedy needed him and his support to win against Nixon. Joining forces with Kennedy and Johnson allowed Humphrey to promote proposals that were important to him, such as the Peace Corps, an idea first introduced in 1957 that garnered little support, then broadened in 1959, and finally outlined in the presidential primaries of 1960 in speeches such as this one on Polka Day in New Ulm, Minnesota. The Peace Corps became a reality in 1961 with the election of President Kennedy and Kennedy's own brother-in-law R. Sargent Shriver was appointed its first director.
Even as Humphrey gained further national and international

attention, his crusade for civil rights continued. In May of 1959 Humphrey introduced another series of bills that addressed issues left out of the 1957 legislation. He continued to speak at events including this speech at the 50th anniversary convention of the NAACP in support of civil rights and to encourage people not to lose hope. Like the first, the second civil rights bill focused only on the protection of voting rights and appropriations for administrative agencies. While the 1960 legislation did not enact substantive change, it prompted Humphrey to believe more could be achieved under the Kennedy administration.
These speech texts, as well as all of Humphrey's speeches from 1941-1960 are linked to the inventory of his Speech Text Files. More of Humphrey's speeches will be made available each month throughout this project. Look for the years 1961-1963 in January!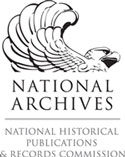 ---
This project was awarded the support of a $46,000 grant from the National Historical Publications and Records Commission (NHPRC) administered by the National Archives.
Learn more about how the NHPRC helps preserve records of enduring national historical value and promotes their public access and interpretation through archival and documentary programs.
New and Updated Finding Aids - November 2012
Name/Abstract
File No.
Adjutant General: An Inventory of Its Military Service Records, Civil and U.S.-Dakota Wars
gr00667
Service data on Minnesota soldiers who served during the Civil and U.S.-Dakota wars.
Adjutant General: An Inventory of Its Orders and Circulars
gr00668
An incomplete set of numbered general and special orders concerning maneuvers, awards, appointments, and miscellaneous affairs of the Adjutant General's office and the Minnesota National Guard.
Auditor: An Inventory of Its Audit Reports of Counties
gr00154
Annual or other periodic reports on the examination of the financial affairs of counties by the State Auditor. The reports contain comments and recommendations regarding fiscal procedures; summaries of financial conditions, in general and with respect to fund transactions, investments, bonded indebtedness, and federal revenue sharing; balance sheets and supporting statements; classifications of receipts and disbursements; notes to financial statements; summaries of fixed assets, taxable valuations, and tax levies and returns; and names of officials and verifications of official bonds. In some cases, the State Auditor prepared a management and compliance letter in lieu of a full audit report. Some reports for 1970-1972 were done by the State Auditor's predecessor, the Public Examiner.
Auditor: An Inventory of Its Audit Reports of County Hospitals and Nursing Homes
gr00155
Annual or other periodic reports on the examination of the financial affairs of county hospitals and nursing homes by the state auditor.
Auditor: An Inventory of Its Audit Reports of Municipalities
gr00156
Annual or other periodic reports on the examination of the financial affairs of municipalities and municipal departments by the state auditor.
Auditor: An Inventory of Its Audit Reports of Regional Organizations
gr00157
Annual or other periodic reports on the examination of the financial affairs of regional development commissions and regional service organizations by the state auditor.
Auditor: An Inventory of Its Audit Reports of Relief Associations
gr00158
Annual or other periodic reports on the examination of the financial affairs of police and fire fighters' relief associations.
Auditor: An Inventory of Its Audit Reports of Soil and Water Conservation Districts
gr00160
Primarily audit reports; occasional financial statements are interfiled.
Auditor: An Inventory of Its Audit Reports, Miscellaneous
gr00153
Reports on the examination of the financial affairs of miscellaneous units of government mostly from counties in the Twin Cities Metropolitan Area, or general reports on local finance and spending.
Auditor: An Inventory of Its Financial Reports of Housing and Redevelopment Authorities
gr00163
Financial statements, audit reports, balance sheets (often on U.S. Housing and Urban Development Department forms), or other annual financial reports of housing and redevelopment authorities in various Minnesota communities. A few county-level HRAs are included. Most reports cover the calendar year or quarter-year, but some are for other time periods.
Auditor: An Inventory of Its Financial Reports of Miscellaneous Governmental Units
gr00481
Financial statements, audit reports, balance sheets, and related documentation summarizing annual receipts and expenditures of area mental health programs, park and recreation boards, public libraries, cable communications boards, retirement associations, the Duluth-Auditorium Administration Board, the Metropolitan Sports Facilities Commission, the State Armory Building Commission, and other miscellaneous agencies. A few were created by the State Auditor or its predecessor, the Public Examiner.
Auditor: An Inventory of Its Financial Reports of Relief Associations
gr00483
Annual financial statements and reports, largely for police and firemen's relief associations. Very incomplete; many others are filed with the municipal financial statements.
Auditor: An Inventory of Its Financial Reports of Sanitary and Sewer Districts
gr00482
Financial reports of area or regional sanitary/sewerage districts, most notably the Metropolitan Waste Control Commission and the Western Lake Superior Sanitary District.
Auditor: An Inventory of Its Financial Reports of Transportation and Port Authorities
gr00164
Financial and audit reports of airport commissions, port authorities, regional railroad authorities, and transit authorities. Some are reports by the State Auditor.
Auditor: An Inventory of Its Financial Reports of Watershed Districts and Water Management Organizations
gr00484
Financial reports and independent audit reports for watershed districts, conservation commissions (for lakes and waterways), flood control commissions, lake improvement districts, and other water management organizations. Annual operating reports are often included, also or instead. In a few instances, the audit reports are by the State Auditor.
Commerce Department: An Inventory of Its Annual Reports of Public Utility Companies to the Stockholders
gr00634
Reports to the stockholders of various utility companies operating in Minnesota.
Richard Pillsbury Gale: An Inventory of His Papers
01077
Correspondence and subject files of a Republican state representative and United States congressman from Minneapolis.
Hanford Lennox Gordon: An Inventory of His Papers
01078
Contains correspondence regarding poetry written by Gordon, the First Minnesota Volunteer Infantry during the Civil War, Minnesota politics in 1868 and 1914, and the presidential campaign of 1912; essays and letters by Gordon on suffrage in Minnesota (1868), on the Hawaiian question (1897), on the Panama Canal tolls controversy (1914), on World War I (1915), and on the controversy about the gilded horses on the Minnesota Capitol; autobiographical notes giving information on legal practice and frontier social conditions in Minnesota in the 1860s; and scrapbooks of newspaper clippings referring to Gordon's political and literary activities.
Guild of Catholic Women (Saint Paul, Minn.): An Inventory of Its Records
00755
Records of a Saint Paul-based philanthropic and social association of lay Roman Catholic women, its Catholic Guild Hall, the Mission of Our Lady of Guadalupe, the Antone Hospital Guild, and Our lady of Good Counsel Home.
Hersey, Staples and Co. (Stillwater, Minn.): An Inventory of Its Records
01075
Correspondence, maps, deeds, land patents, financial records, and miscellany of a lumber company organized in 1854 by Samuel F. Hersey and Isaac Staples of Maine, and several Massachusetts partners. The records provide data on land acquisition, logging, lumber manufacture and marketing, sawmill machinery, labor recruitment, and other aspects of the firm's business, as well as on a general merchandise store and flour mill operated by the firm in Stillwater.
Human Services Department: State Operated Services: An Inventory of Its Records
gr00556
Records documenting the activities and organization of State Operated Services [SOS], the area of the Human Services Department that provides direct services to people with disabilities.
Minnesota Women's Political Caucus: An Inventory of Its Records
00388
Files of a statewide organization to encourage women's participation in government, several of its local chapters, and its educational adjunct, the Minnesota Women's Education Council.
Red Lake County: District Court An Inventory of Its Civil and Criminal Case Files
gr00322
Civil and criminal case files; the civil records include an index, by plaintiff and defendant (1897-1975), case file numbers 1-1774 (1897-1919), and select transcripts and related documents (1906-1949). The criminal records include case file numbers 3-553 (1897-1978) and select transcripts and related documents (1932-1957).
Red Lake County: District Court An Inventory of Its Judgment Dockets
gr00327
Each entry notes judgment debtor(s), judgment creditor(s), court (justice or district), date of judgment, date of docketing, amounts of damages and costs, register number, attorney for the creditor, and sometimes information on the satisfaction (settlement) of the judgment. Also includes justice court records for 1890-1896.
Rochester State Hospital: An Inventory of Its Patient Records, Miscellaneous
gr00669
Miscellaneous records containing information on individual patients.
Secretary of State: An Inventory of Its Land Survey Field Notes and Related Records
gr00507
Field notebooks kept by federal government surveyors as they laid out the exterior and subdivision lines of each Minnesota township. Also an interior index, resurvey field notes, and related records.
Secretary of State: An Inventory of Its Land Survey Plats
gr00508
Plat drawings of Minnesota townships made by the U. S. surveyor general's office in St. Paul from the field notes of deputy surveyors. The records include a set of microfiche reproductions of the plats (1847-1984), including an index created in circa 1984; the official set of plats (1848-2002), which are ink on paper and linen and vary in size; and resurvey plats (2006-2011).
Supreme Court An Inventory of Its Case Files, General Index, and Briefs of the Supreme Court and the Court of Appeals
gr00088
Materials relating to the proceedings of the trial (lower) courts, filed by the lawyers of parties involved in actions or proceedings in preparation for a hearing with the Supreme Court or (beginning in 1983) the Court of Appeals. They also include the opinions, orders, and judgments generated by these two higher courts.
Tax Court: An Inventory of Its Closed [Completed] Decision Files
gr00473
Case files for appeals from orders of the Commissioner of Revenue regarding tax disputes, or from property valuations or classifications, that resulted in a Tax Court decision. The court's decisions interpret the law and have precedent value.
U. S. Selective Service System: Minnesota Headquarters: An Inventory of Its Circulars
gr00438
Mimeographed memoranda, bulletins, reports, and other circular issuances sent from the office of the director of the Minnesota headquarters of the United States Selective Service System.
New and Updated Catalog Records
Archives - New Finding Aids