What's New
Hubert H. Humphrey Digitization Project
This is the eleventh installment of our NHPRC funded project to digitize Hubert H. Humphrey's speech texts. This month we focus on the years 1969-1972, Humphrey's re-emergence onto the political scene in Washington and the continuation of his quest for the presidency.
In 1969 Humphrey went back to teaching at the University of Minnesota and Macalester College. His keynote address at the five-day student-planned Urban Crisis Symposium at Macalester College on February 23, 1969 was his first public appearance in his new position as professor of political science and international affairs.
Humphrey also became the Chairman of the Board of the Encyclopaedia Britannica Education Corporation and traveled extensively around the country and the world. In this awards presentation speech in Skokie, Illinois on April 8, 1970 Humphrey congratulates School District 68
on significant improvement of its elementary school library media services on behalf of Britannica. He also became the first board chairman of the new Wilson International Center for Scholars, established by Congress in 1968.
It was a special, mind-clearing opportunity to be not only my own man, but simply a private person again. Just Hubert Humphrey. I spent more time doing the things that people do in private life: traveling, fishing, playing with my grandchildren, catching up on conversations with my children (delayed for a decade), and earning more money than I ever had before. It was a wonderful time (Education of a Public Man, p. 325).
Ever the public man, however, Humphrey still looked for the next position he could attain. Nixon had offered him a position in his administration after becoming president but Humphrey firmly refused. After Ten Kennedy's incident at Chappaquiddick Humphrey's prospects of regaining a significant political office grew more promising. When Eugene McCarthy decided not to seek re-election for his Senate seat in 1969, Humphrey was ready to campaign again.
After easily regaining a seat in the Senate in 1971, Humphrey found that he was not accorded the same power or committee positions that he had earned during his previous tenure. Though refused a seat on the Foreign Relations Committee, he was again granted a place on the Agricultural Committee and got right to work. In this speech to the Dairymen, Inc. Roundtable in Louisville Kentucky on January 29, 1971, Humphrey informs them of his new position and urges them to work together to influence national policy.
While adjusting to life in the Senate once more, the possibility of attaining the presidency again began to entice Humphrey. In an article printed a day after his 60th birthday in May of 1971 Humphrey admitted to reporters in Florida that he would love another chance at Richard Nixon in the next election, saying that he was "not running for president at this time, but I may. I've got my sails up, testing the weather. I'm not salivating -- but I'm licking my chops."
On January 10, 1972 Humphrey made his announcement of candidacy in Philadelphia, Pennsylvania. Running against his long-time friend and fellow South Dakotan, George McGovern, Humphrey beat him in the Florida primary but experienced yet another defeat in Wisconsin,
conceding that primary in this speech on April 4. Though Humphrey went on to win primaries in Pennsylvania, Indiana, Ohio and West Virginia in the next weeks and months, funding began to dwindle.
McGovern won the Oregon, California and South Dakota primaries, perpetuating the decline of Humphrey's campaign. Humphrey stayed in the race officially until he issued his withdrawal statement on July 11. By August he was campaigning by McGovern's side.
At the same time Humphrey's son Skip, Hubert Humphrey III, was running for a position in the Minnesota Senate and won his seat in November of that year. It was the first time the DFL had captured control of the state legislature since Humphrey led it, and was a welcome chance for father and son to serve in public office together.
These speech texts, as well as all of Humphrey's speeches from 1941-1972 are linked to the inventory of his Speech Text Files. We are nearing the end of the project so look for the remainder of Humphrey's speech texts in August!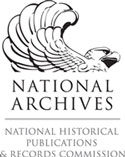 ---
This project was awarded the support of a $46,000 grant from the National Historical Publications and Records Commission (NHPRC) administered by the National Archives.
Learn more about how the NHPRC helps preserve records of enduring national historical value and promotes their public access and interpretation through archival and documentary programs.
New and Updated Finding Aids - June 2013
Name/Abstract
File No.
Charles H. Bigelow and Family: An Inventory of Their Papers
00211
Correspondence (1883-1994), diaries (1862-1961), subject files, essays and other writings, photographs, and printed material documenting three generations of the families of St. Paul (Minn.) businessmen Joseph McKibbin and Charles H. Bigelow.
Daughters of the American Revolution. Saint Paul Chapter (Saint Paul, Minn.): An Inventory of Its Records
01099
Charter, bylaws, yearbooks, chapter history, secretary's records, minutes of meetings and annual reports, treasurers' records, registrar's record of members, lineage books, roll books, and other records of the Saint Paul Chapter of the Daughters of the American Revolution organized in 1891.
General Federation of Women's Clubs of Minnesota: An Inventory of Its Records
00454
Records of a state association organized in 1895 as an affiliation of local women's clubs throughout Minnesota.
Houston County: School District No. 74, Black Hammer Township: An Inventory of Its School Records
gr00716
Clerks (1907-1923, 1925-1950) and treasurers (1910-1918) books, school census (1917), class record (1891-1898, 1924-1933), attendance registers (1891-1931), textbook inventory (1879-1905), and award ribbons (1929).
Houston County: School District No. 88, Spring Grove Township: An Inventory of Its School Records
gr00717
Clerks books (1939-1949), school census (1934, 1940-1949), attendance register (1941), teachers report (1940-1941) and consolidation correspondence (1948-1949), library accession book (1940-1941), and pupil record cards (1928-1941).
Houston County: Superintendent of Schools: An Inventory of Its Administration Records
gr00718
Files relating largely to teacher qualifications and insurance and retirement funds, school consolidations and boundaries, state aid, an annual declamatory contest (1921-1941), and school officers. Included are term reports from each district's teacher(s) to the county superintendent (1911-1967), containing statistical information on enrollment and attendance; teachers' salaries, training, and experience; state aids; tax rates; per pupil costs; and receipts and expenditures.
Hubert H. Humphrey: An Inventory of His Speech Text Files
00442
Copies of Humphrey's speeches, in varying formats including notes, drafts, speaking texts, printed copies, and transcripts. Also present are excerpts, sample speeches, and incomplete indexes and checklists.
Includes digital content.
Harold LeVander: An Inventory of His Papers
01096
Correspondence, minutes, newspaper clippings, subject files, campaign literature, news releases, schedules, speech files, photographs, and scrapbooks documenting Minnesota governor (Republican, 1967-1971) LeVander's career at Watertown High School (1928), Gustavus Adolphus College (1928-1932), and the University of Minnesota Law School (1932-1935); his activities in Lutheran (Augustana Synod) organizations (1945-1951); and his 1966 gubernatorial campaign.
Iantha LeVander: An Inventory of Her Papers
00146
Biographical information, correspondence, newspaper clippings, printed materials, speech files, scrapbooks, desk diaries, and other papers documenting LeVander's activities in local and national Republican politics and as Minnesota's First Lady (1967-1971).
McKnight Foundation: An Inventory of Its Records
01100
Historical and program files of the McKnight Foundation, a Minneapolis-based family foundation established in 1953 by William L. McKnight and his wife Maude that made grants to programs focusing on children and youth, the region and communities, the environment, the arts, and neuroscience research. Materials include memoranda, directors' meetings materials, brochures and reports, planning documents, program descriptions, program guidelines, news clippings, photographs, videocassettes, and audio tapes and transcripts of oral history interviews with early leaders of the Foundation.
F. R. Meisch: An Inventory of His Papers
00853
Personal papers and financial records, professional files, architectural drawings, scrapbooks of photographs, and other materials of a Minnesota architect who was involved in aviation-related projects and in projects for the local Roman Catholic archdiocese, and who was also a watercolor artist active in Twin Cities artists' organizations.
Minnesota Historical Society: An Inventory of Its Institutional Archives
00513
The archives of the Minnesota Historical Society reflect and document the history of the organization from its 1849 beginning as the first private corporation chartered by the territorial legislature. They include records from all of its administrative and program units.
Planning Agency: An Inventory of Its Published Records and Reports
gr00411
Print and near-print items created or collected by the Planning Agency.
Planning Agency: Children's Division: An Inventory of Its Division Records
gr00727
Records documenting the agency's activities concerning the welfare of the state's children, particularly through the Children's Cabinet, the Minnesota Children's Initiative, and a statistical study of the state's children.
Planning Agency: Critical Issues Division: An Inventory of Its Division Records
gr00726
Records of this division, whose duties included identifying issues to use in evaluation of the state, particularly in the areas of the economy, politics, education, and energy.
Planning Agency: Director's Office: An Inventory of Its Kohl (Linda) Files
gr00725
Mainly correspondence files (1991-1996) of director Linda Kohl, largely concerning the programs and activities of the agency and its relationship with other state offices, with the state legislature, and with the general public.
Planning Agency: Director's Office: An Inventory of Its Subject Files
gr00728
Subject files containing correspondence, memos, reports, background data, minutes, and related materials largely concerning the programs and activities of the State Planning Agency (1965-1991) and its successor, Minnesota Planning (1991-2009).
Ramsey County: Independent School District No. 621, Mounds View: An Inventory of Its District Records
gr00730
Records of Mounds View Public Schools (Independent School District No. 621) and its predecessors, Ramsey County School District No. 4 and Ramsey County Independent School District No. 38.
Regional Transit Board: An Inventory of Its Regional Transit Board Records
gr00247
Records of the Regional Transit Board [RTB], the body legislated to administer the transit needs of the Twin Cities Metropolitan Area. The materials document the organization, administration, operation, and dissolution of the board, including its relationship to the Metropolitan Transit Commission [MTC], its role in trying to bring light rail transit to the area, and its various programs involving short-range transit planning, particularly those involving the handicapped and elderly.
War Records Commission: An Inventory of Its World War I Soldiers' Photographs
gr00131
Contains photographs of soldiers, some of which include the geographic location where enlistment occurred.
New and Updated Catalog Records
Archives - New Finding Aids